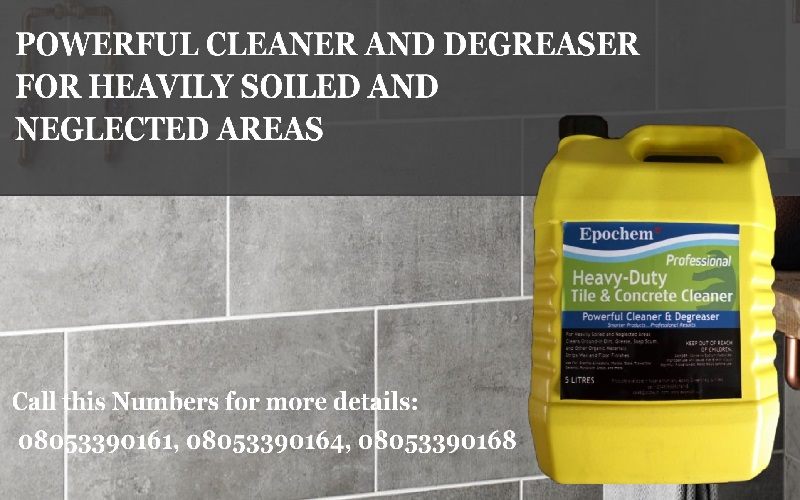 Epoxy Oilserv is the maufacturer of Epochem brand of cleaning and maintenance chemicals in Nigeria. Our Epochem Heavy duty Tile and Concrete cleaner is a powerful cleaner and degreaser for heavily soiled and neglected areas. It cleans ground-dirt, soap scum and other organic materials. It also stripes wax and floor finishes.
Ms. Roselyn, our lead chemist in an interview on the efficacy of Heavy Duty Tile and Concrete Cleaner said that "Epochem Heavy Duty Tile and Concrete Cleaner is a highly concentrated formula which makes it a great option in terms of both effectiveness and cost. It also function as a germ killer."
Epochem Heavy Duty Tile and Concrete Cleaner removes salt, cementious deposits after tiling, mineral buildup, hard water buildup, efflorescence and soil embedded in porous grout and cleans what alkaline cleaners cannot clean. While it is appearing to be an obvious option for kitchens and bathrooms, modern homeowners consider using tiles to the entire house. Tiles are popular as a flooring option because of various reasons; they are durable, they produce minimal dust, don't tolerate stains, free of dust mites and other organisms and are exceptionally easy to clean. Despite all the good characteristics of the tiles as a flooring option, there are some precautions you should take to minimize the less lustrous effects that can occur over time.
Each tile is joined to the other tiles with a special mortar called grout. Generally, it is the grout that becomes stained or discoloured way ahead of the tiles. If necessary care wasn't taken, things can be really ugly with the grout. Usually, this grout is covered with a sealant substance, but it can be worn off with the traffic and other causes over time. When the grout sealant is worn off, the grout becomes vulnerable to get dirty and the whole appearance of the flooring is compromised.
With proper maintenance, you can expect your tile flooring to last longer and appear nicely all the time. Routine maintenance should include regular sweeping, mopping and buffing. With such activities, you can expect the tiles to retain less dirt, stain or other foreign substances. Floor cleaning allows you to cut back all the irritants such as mould, mildew, and bacteria. Although the floor might appear visibly clean, there can be colonies of microorganisms like bacteria and germs if you fail to clean the surface with a good antiseptic. Be sure to use the right type of cleaning material that works on tiles.
Tile cleaners are based on chemicals of course. Different chemicals have different strengths and you need to know the best type to get and that is why we are recommending our Epochem Heavy Duty Tile and Concrete Cleaner. Most of these tile cleaners can be harmful to your skin, so it is necessary to have protective wear during the cleaning process. It is extremely important for you that you don't get direct contact with these chemicals as they can be hazardous.
1. First remove any dry soil
Begin by vacuuming with a backpack vacuum that has a hard floor attachment. Avoid sweeping because brooms and dust mops tend to leave soil particles in the grout lines. Vacuum tile floors regularly to keep them from getting dull. Tiles may be resistant to dirt, but sand and grit can dull glazed surfaces.
2. Do not leave too much solution on the floor
This will leave soil particles in the grout lines, which can work their way down into the porous grout. One way to accomplish this is to use microfiber flat mops because they leave less solution on the floor than traditional mops and are capable of picking up more of the soil particles due to the nature of the microfiber.
3. Increase frequency of mopping
The more frequently the floor is mopped, the less likely it is that the soil will settle into the grout lines. Change the water frequently while mopping because dirty water can leave an unsightly film and cloudy looking appearance.
Benefits of Epochem Heavy Duty Tile and Concrete Cleaner
Gives the appearance of a brand new floor.
Improves the look of your home.
Gets rid of bacteria and mould.
Provides a deep down clean.
No damage to tiles and grout.
Extends the life of tiles and grout.
Most people dread the thought of tile and grout cleaning because of wrong chemical. Fear no more because the solution is our Epochem Heavy Duty Tile and Concrete Cleaner. 
To learn more about Epochem Heavy Duty Tile and Concrete Cleaner and how their use can benefit you, contact GZ Industrial Supplies Nigeria. We can help you make the accurate decision centred on what operation you are carrying out on your materials.