The basics of Epoxy Flooring.
Epoxy Flooring is a type of surface flooring system that is applied at least two millimeters in-depth of the floor surface". It is applied to your floor in multiple layers,  otherwise, considered to be epoxy floor coating.
On the other hand epoxy coating is two-part epoxy coatings that is developed for heavy duty service on metal ( or other substrates) and use less energy than heat-cured powder coatings. Epoxy coatings are often used in industrial and automotive applications since they are more heat resistant than latex-based and alkyd-based paints. Epoxy paints tend to deteriorate, known as "chalking out", due to UV exposure." 
Epoxy resin chemical itself is made up of two main components, hardeners, and resins. This is a system where the two are mixed together creating a chemical reaction that forms a rigid plastic material that is resistant, durable, and able to bond exceptionally to its substrate. Being as strong as they are, epoxy floors are often used in some of the most demanding environments and industries.
We are the distributor of high quality range of epoxy Chemicals, Coatings, paints and floor coatings. The coatings are generally packaged in two parts that are mixed prior to application. To be updated with the information on this flooring technology, we have also done a comprehensive article about all you need to know about epoxy flooring in 2022, many improvements have gone on and our brand epocoat is the best epoxy coating paint right now in Nigeria.
Epochem Resin and Hardener is the foremost brand of epoxy resin product in Nigeria, 
Our company have highly qualified technical teams that apply Epoxy floor coatings no matter the dimension or detailed requirement of the customer, Epoxy paints and coatings are formulated based upon the performance requirements for the end product. When properly catalyzed and applied, epoxies produce a hard, chemical and solvent resistant finish. They are typically used on concrete and steel to give resistance to water, alkali and acids. It is the specific selection and combination of the epoxy component and the hardener component that determines the final characteristics and suitability of the epoxy coating for a given environment.
The beauty of this modern type of flooring cannot be ignored if you want a perfect glossy finishing in your homes garages, manufacturing facilities, auto workshops, etc. check the below pictures of finished  flooring assignments and take the bold decision of getting this job done as quickly as possible.
Automotive facility applications
When it comes to the professional look of any commercial automotive facility, perhaps nowhere is it more critical than that of a fully operating automobile dealership. The overall cleanliness and professionalism of not only your showroom, but all customer access areas such as write-ups walkways, service areas and more will leave an impression with your customers whether new or returning.
Our floor coatings can transform almost any existing concrete substrate into a beautiful finished surface that will withstand the abuses of your particular service environment. Several system variations are available to meet the demands of your business and all our epoxy floor coatings offer superior chemical and abrasion resistance to the irritants found in the workplace. Oils, acids, heavy fuels, vehicle traffic and the elements can all be held at bay.
Our coating systems were originally developed specifically for use in automotive dealerships and service facilities.
Industrial applications
Your industrial floor coating is no component to take for granted. As a true commercial-grade floor coating system, Epoxy Oilserv flooring system a silent workhorse that can extend the lifecycle of your facility. Our floor coating systems provide an environmentally sustainable solution for substrate protection, lower operational and maintenance costs and increased productivity. With Many industrial and commercial facility across Nigeria to our credit, our floor coating systems have long been industry proven to protect floors better and preserve floor quality longer. Whether you are applying our coatings over an area of several thousand square meters as part of an overall workplace safety program, developing a new facility or upgrading an existing one, you will not find a more durable and professional-looking floor coating system with us contact us for quotes
Applicable areas includes:
Manufacturing
Distribution
Storage Facilities
Warehouses
Packaging & Shipping
Assembly Plants
Public & Employee Areas
Example of 3D epoxy flooring
It is essential to understand the meaning of 3D epoxy flooring. 3D epoxy flooring is a state-of-the-art technology introduced to give floors an exclusive and unique design. … This is then treated with a transparent two-component epoxy or polyurethane to give the perfect image depth. A level of protective varnish is the final step.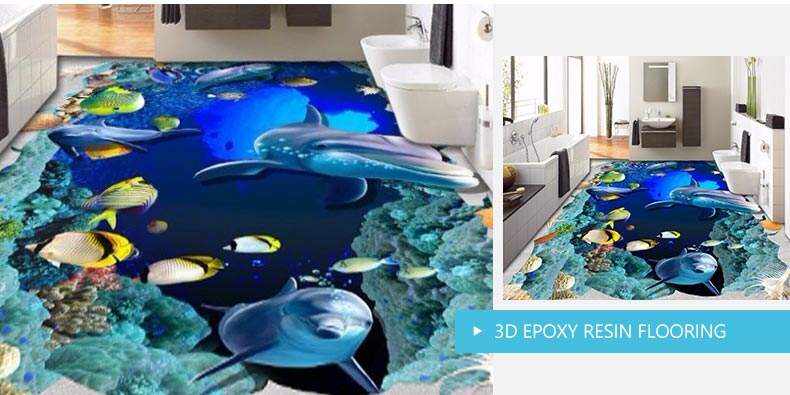 In today's food industry, floor coatings are of paramount concern because flooring impacts an entire facility. Epoxy 's floor coating finishes are of the highest standards, and help to comply with industry guidelines for good hygiene practice and efficient production. This Coating is durable enough and thick enough to create a protective barrier that prevents contaminants from permeating concrete and wood substrates. Food industry floors are typically exposed to contaminants that can cause serious damage to concrete because of their corrosive nature. Additionally, these types of impurities can infiltrate uncoated concrete and wood substrates, resulting in the growth of bacteria and subsequently degrade processed food's purity. Our floor coatings offer a seamless, impermeable barrier that is easily cleaned and ensures a hygienic surface.The Anti-Microbial (-AM) is a line of floor coating products featuring an additive compound integrated during the manufacturing process. our partners have has been working with leading biocide manufacturers to develop coating products wherein the dry coating film of these products are mildew resistant, resists mold fungus, resists microbial odor development and retards the growth and action of bacterial odors.
When it comes to the overall value and visual appeal of any residential property, one of the most critically measured aspects is that of finished, useable floor space. Epoxy Oilserv floor coating systems turn dirty and distressed concrete floors into attractive, durable, easy to clean, useful surfaces. The superior protection from epoxy coating is that It provides from deterioration or contamination will greatly reduce the need for floor repairs caused by salts and chemicals that breakdown concrete. Our floor coatings will help beautify and protect virtually any concrete or wood surface and is available in multiple color and finishes to fit any decor. Our products are water based, allowing residential homeowners to coat interior areas like basements, utility rooms, workshops without the worry of obnoxious odors and flammability issues.
Epoxy Floor Coatings Are Ideal For:
This modern coatings are used over concrete floors in a variety of commercial and industrial applications such as in manufacturing plants, commercial and retail stores, industrial plants, warehouses, hospitals, showrooms, garages, airplane hangars, and more. They are also applied in the following areas
Garage Areas

Basements

Kitchens

Bathrooms

Utility

Exterior Patios & Porches

Pet Areas

Pole Barns
Application for commercial facilities
Your floor just might be the most overlooked part of your facility, but that doesn't mean it should be ignored. An unprotected, neglected concrete floor will not only look bad for business, but also allows for absorption of pollutants which may present long term safety hazards to your employees and contribute to ground contamination leading to costly maintenance, repairs or both. our floor coatings can transform almost any existing concrete substrate into a beautifully finished surface that will withstand the abuses of your particular service environment while also protecting the underlying substrate from premature wear and surface damage.
you will not find a more durable or economical flooring option. Our systems have been developed through our years of professional installation in the commercial, manufacturing, and retail industries.
Epoxy Floor Coatings Are Ideal For:
Retail Showrooms
Broadcast Studios
Waste Management Facilities
Parts Department
Body Shops
Paint & Spray Booths
Public & Employee Areas
Application in the Hospitality industry
In the Hospitality industry your floor encounters heavy foot traffic and needs to have the ability to withstand regular wear and tear along with changing weather conditions. These areas need to be well maintained, easy to clean and have the ability to be used indoors or outside. Epoxy's floor coatings provide many long lasting solutions that will match virtually any color scheme. These finishes provide a protective coating that can be used on wood, laminate, concrete and tile.
Epoxy Flooring application in Educational facilities.
From Nursery schools to Universities and other higher and exquisite educational institutions need affordable and durable flooring options. We provide just that! Our floor coatings are able to withstand heavy foot traffic and provide a long term protection over concrete, wood, and tile. With our flooring options you will be able to improve the overall appearance, safety, and cleanliness of your facility and work areas. Our company provides safe flooring with our anti-slip options, which makes it safe to walk on even when the floor is wet.
Some of our floor coatings are available in Anti-Microbial formula allowing the floor to be mildew resistant, mold fungus resistant, microbial odor development resistant, and delays the growth and action of bacterial odors. This makes it great to use in locker rooms, cafeterias, restrooms, and more.
we now offer epoxy flooring training on application
contact us today or call our customer representative 
The two-part epoxy floor coatings are referred to as "100 percent solids" since they do not include any conventional solvents, as opposed to one-part epoxy floor coatings.
Two-part epoxy coatings provide the ideal concrete surface, thick, durable, and visually appealing finish. These epoxy kits are often used in conjunction with decorative chips scattered over the epoxy's surface.
The best epoxy floor coating produces a textured and visually appealing finish to the surface. The surface will harden entirely after 24 hours of application, assuming that it is not exposed to direct sunlight.
100% solids epoxy is the most costly choice available, and it is also the most difficult to apply. However, they are a low odor, as they do not contain any added solvents.
Epoxy coatings have a smooth, flat surface with no joins, grooves, indentations or crevices where dust, pollen, dirt and other junk can hide. If you need a clean building, either due to allergies or production demands, you want an epoxy floor over any other option. Epoxy Oilserv installs your coating such that It becomes one single surface providing nice cleanliness and requires only the simplest form of maintenance.
If you need more information on the benefits of epoxy coating for your your facilty's concrete floor, contact us for a discussion over the phone or online for a free consultation. We're happy to show you our past experiences and jobs that are still standing and looking like it was done yesterday.