Press Release; PRnewswire 18th August 2015.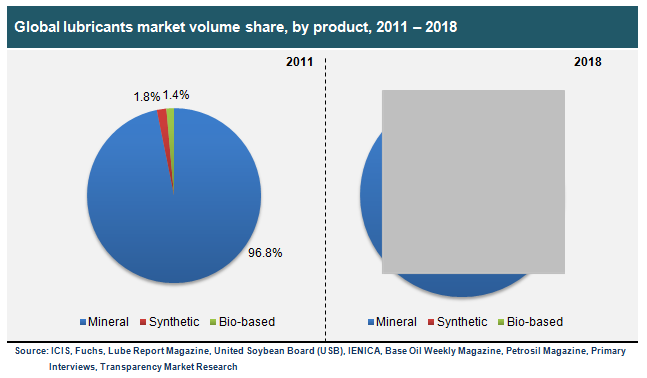 Global Automotive Lubricants market shows Shell, Sinopec exxon mobil and other lubricants manufacturers as key vendors
The global automotive lubricant market to grow at a CAGR of 2.77% during 2014-2019.
The report, Global Automotive Lubricant Market 2015-2019, has been prepared based on an in-depth market analysis with inputs from industry experts. The report covers the market landscape and its growth prospects in the coming years. It also includes a discussion of the key vendors operating in this market.
A growing middle class with improved purchasing power, rapid industrialization, and better infrastructure has led to strong developments in vehicle production and sales in emerging markets. China, India, Thailand, Malaysia, and Indonesia, are some of the leading consumers of automotive lubricants in APAC. Improvements in the economic conditions of emerging countries have changed the financial status of consumers in those countries, in turn increasing the demand for and production of automobiles. Also, the growing demand for LCVs in these countries is a major factor boosting the growth of the global automotive lubricant market.
According to the report, used lubricant is hazardous for humans, animals, and the environment. Increased environmental awareness, rising health concerns, and a growing need for sustainability is leading to increased demand for re-refined automotive lubricant. The re-refining of automotive lubricants or used oil benefits manufacturers and service centers by providing a cost-effective option and conserving natural resources such as crude oil.
Further, the report states that constant fluctuations in the price of crude oil used in the manufacture of automotive lubricants have a major impact on the profits of lubricant manufacturers.
The global automotive lubricant market can be segmented into the following:
– Oil type: mineral oil-based, synthetic oil-based, and bio-based
– Application: engine oil, brake oil, transmission fluid, and gear oil
Key Vendors
– BP
– Chevron
– Exxon Mobil
– Sinopec
– Total
Other Prominent Vendors
– AMSOIL
– Bharat Petroleum
– Blue Star Lubrication Technology
– FUCHS Schmierstoffe
– GS Caltex
– Guangdong Delian Group
– Gulf Oil Middle East
– Hindustan Petroleum
– Indian Oil
– JX Nippon Oil & Energy
– Motul
– PETRONAS Lubricants International
– Phillips 66 Lubricants
– Robert Bosch (Bosch Auto Parts)
– Tide Water Oil
For more information visit http://www.researchandmarkets.com/research/d3k8sw/global_automotive
Media Contact:
Laura Wood, +353-1-481-1716, press@researchandmarkets.net
SOURCE Research and Markets
RELATED LINKS
http://www.researchandmarkets.com
Lubricants can be purchased online in Nigeria's GZ industrial online store for the first time in the history of commerce in Nigeria. We sell all brands of automotive lubricants