Nigeria Should Rethink Priorities, Increase Academic and Industry Linkage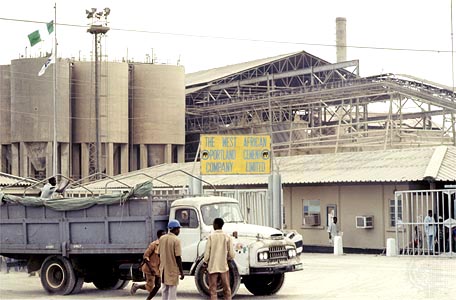 Putting learners first is essential, according to Peter Senge, author of The Fifth Discipline. "The only sustainable competitive advantage," he wrote, "is an organization's ability to learn faster than the competition." And there is a new way to accomplish targeted, just-in-time learning, If our industrial organisations are  tied with these learning and research institutions we are building globally competitive organisations, we are likewise building corporates that will take our increasing population and employ them, some few days ago, you have heard most recent disturbing news, for example Nigeria's Oil company
NNPC Paid in N723.82Billion
to the federal government in 8 months loosing a huge N39 billion due to slump in crude oil price,
Nigeria lost $2.1 Billion
in tax waivers to Oil companies,
Nigeria inflation rate climbs
to highest in more than two years, these are disturbing given that this is a new government trying to design a new strategic economic direction for growth. Never mind  in all i know we will weather the current storm even as investors confidence in Nigeria is in the increase, recently there i news making the round that  
Nigeria is the best destination
for foreign direct investments,  i give kudos to our dear President Buhari's strategic resolve to grow the economy against evidently increasing odds, some of  
our industry experts
 agree that the President is doing pretty well so far.
Now let us discuss why we need to create a strong link between our academic institutions and our industrial concerns.
I  belief that seats of higher education, the research institutes scattered across Nigeria, the polytechnics and Universities (both private and Public) cannot operate as isolated islands of knowledge; for knowledge has no value unless it is shared and focused on current needs. Therefore, bridges need to be built, to connect these knowledge-islands to the clusters of industries and the community. Keeping this in mind, Nigeria should  formulated an integrated, interdependent Eco-system that should help in establishing and consolidating Industry-Academia Linkages and subsequently in commercialising the research coming out of these institutions, recreating human resources that is currently in abundance in Nigeria, we do not have to reinvent the wheel in this regard it should be in urgent basis to quickly address these issues given our current economic circumstances.
Save for Notap a government agency seemingly versed with these 
responsibilities amongst others are 
Promotion of Intellectual Property; Technology Advisory and Support Services; Commercialization of R&D Results; Research Industry Linkage i know of no other public-driven or private driven initiatives that is effective and notably producing results, NOTAP introduced a new initiative, the NOTAP-Industry Technology Transfer Fellowship (NITTF) scheme, that encourages industry to fund and nurture new crop of highly skilled and industry-driven young academic researchers for the Nigerian university system. so far we cannot say that this have created any major impact.
There is disconnect between Nigerian tertiary education and industry which had ensured that the 129 universities in the country contributed little or nothing to industrial goods and services produce locally, this was said by
the director general of Notap himself
.
Recently the Petroleum Technology Development Fund (PTDF) is taking a compelling
step to boost oil and gas industry academia linkages,
how far this will go leaves much to be imagined, other laudable programs aimed at enabling industry-academia ties is the recent Nigeria content development and monitoring Board's (NCDMB) " 
adopt-A-Facualty
" programme aimed at facilitating the link between the countries oil and gas industry and the university system well i hope for the best especially with the new Government of "change" in place, my proposal will be short concise, actionable and measurable.
Increase the work scope of Public and private university lecturers to include mandatory outside (industry) visitation: Lecturers should be paid small allowances to come out of the classroom and give talks that will increase productivity in manufacturing concerns, i did understand the impact on the lecturers, but let me explain, first the universities should include industry visitation as part of the scope of their job and should not elicit further expense on the part of the companies, rather it should be stipends or allowances that should be directly in proportion to their perceived income, it should have a limit, very small companies should not pay any money. another leeway is for the government to create industry-linkage subventions, this could be part of the education tax that companies are compelled to pay as part of tax deduction by federal inland revenue services (FIRS).
NUC stop closing universities instead ensure they upgrade "to desired status",
 rate their degrees and degrade it from HND to OND and from BSC to something in between until they meet desired status, for crying out loud these institution make up some source of our competitive advantage as a nation, they bring out educated people too, i have interacted with some of these graduates, a great majority are employable, these institutions have invested in infrastructure and have employed teachers and tutors, do not stop their operation, cage them to upgrade and monitor their performance from time to time, their goal overall will be mutually inclusive success for the nation, furthermore the NUC may continue to publish the names of illegal universities, this will ultimately force the illegal ones to abide by the tenets of creating and running such institutions. i see a more creative NUC that will publish an index of universities (or institutions) and their industry interactions giving credit where necessary to encourage more progressive interactions that will be profitable.
Give tax waivers to new companies coming directly from the academic or research institutes, these companies should be given a 2 year provisional tax waivers to test their innovations for 2 years and should also be given guarantees by the state government where they are first located (to facilitate loan approvals and capital acquisitions) these acada-companies includes startups that are products of licenses, patents sold from the universities/research organisations this will increase focus on getting new innovations off from such locations and will make our learning environment a fertile ground for budding startups.
Finally and most importantly consistent measurement of status and results should be undertaking by both the private sector and public sector organisations, results of forthnighly actions undertaken by PTDF, NOTAP, NUC, the "adopt and family" programme of NCDMB and all other efforts be published on a website, analysed and corrective actions recommended on reinforcing gains of or eliminating actions that are against building the  link between our learning institutions and industries.
Our industries are on ground doing the day to day activities of building our economy, employing our labour and fostering the unbundling of our crude oil-only focused economy, let me remind us that we are not the only country affected by slump in oil price, but we are one of the countries the impact of this slump will substantially affect on the long run if we do not unbundle our dependency on oil, we can start by creating a strong industry-academia linkage, this is a hidden solution yet unexplored, believe me.
Ernest Nnagbo
CEO Epoxy Oilserv Limited
ernest.nnagbo@epoxyoil.com