Concrete Floor Coatings Market Growing at 6.8% CAGR due to High Demand for Coating Materials in Construction Applications –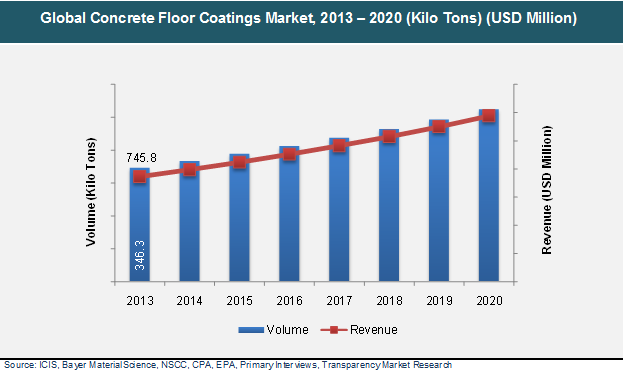 The new report, titled 'Concrete Floor Coatings Market – Global Industry Analysis, Size, Share, Growth, Trends and Forecast, 2014 – 2020' published by Transparency Market Research.
Report estimates the demand for concrete floor coatings for a six-year period from 2014 to 2020, in terms of revenue and volume. According to the analysts of this study, the global concrete floor coatings market is expected to grow at a positive CAGR of 6.8% during the forecast period 2014-2020. The report states that in 2013, the market stood at US$745.8 million and is further projected to grow and be worth US$1,176.9 million by the end of 2020. The publication also reveals that the total volume of the demand registered from the market was 346.3 kilo tons in 2013.Concrete floor coatings help protect concrete floors in various construction applications. They are widely used in building and construction areas to mitigate the effects of thermal shocks, abrasion, and chemical attacks. These coatings exhibit high resistance against heat and wear and tear. The market for concrete floor coatings is rising rapidly because consumers around the world are growing attentive to the benefits of concrete coatings.
The extensive use of concrete floor coatings along with the expansion of the construction industry globally is playing a major role in amplifying the demand for concrete floor coatings. Growing consumer awareness towards floor coatings is also expected to have a positive mark on the market in the near future. According to the study report, epoxy-based concrete floor coating is likely to witness exponential growth over the forecast period. The epoxy-based concrete floor coatings segment dominated the global market with a 55% share of the total demand in 2013. A TMR analyst reports that Asia Pacific is estimated to register the highest demand for epoxy-based coatings in the forecast period due to its easy availability and low price.Strong growth of the construction industry and rising government expenditure on infrastructure improvement in regions such as North America, Asia Pacific, and Europe are some of the factors expected to drive the global concrete floor coatings market in the coming years. In 2013, North America was the largest market for concrete floor coatings, followed by Europe and Asia Pacific.
Get Sample Report: http://www.transparencymarketresearch.com/sample/sample.php?flag=S&rep_id=1949
Epoxy Oilserv Limited is a supplier of Concrete Epoxy floor coatings in Nigeria, we are also applicators of Epoxy floor coatings