As Fuel Scarcity bites harder, NNPC collaborates with MOMAN to end queues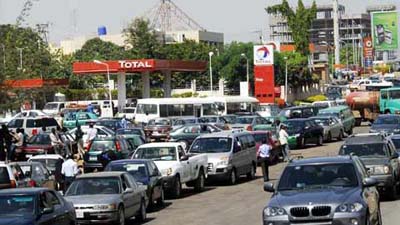 According to Leadership as fuel shortage persist across the country, the Nigerian National Petroleum Corporation (NNPC) says it has stepped up collaboration with the Major Oil Marketers Association of Nigeria (MOMAN) and other downstream industry players to end the resurgence of fuel queues.
This is as the Petroleum Tankers Drivers (PTD), Branch of National Union of Petroleum and Natural Gas Workers (NUPENG) has accused the NNPC of being behind the current fuel scarcity.
The NNPC, in a statement yesterday by its spokesman, Ohi Alegbe, stated that it has secured the commitment of the leadership of MOMAN for effective collaboration in this regard and assured that the queues will disappear in the days ahead as supplies are ramped up across the country.
To achieve this, truck-out to filling stations in the Lagos area has been increased from the regular 245 to 295 trucks per day, about 9.7 million litres, while truck-out to fuel stations in Abuja from Suleja depot has been stepped up to 210 trucks per day, about 6.9 million litres, from the regular supply of 160 trucks per day.
The NNPC explained that similar increment in supply volume has been activated in the Port Harcourt, Calabar, Kano and Kaduna areas to ensure seamless availability of petroleum products across every nook and cranny of the country.
"Within the last 48 hours we have received six cargoes of petrol, about 270 million litres, and beginning from March 1st, 2016, we shall begin to receive one cargo of petrol every day, about 45 million litres,'' the statement informed.
It added that the Minister of State for Petroleum Resources, Dr. Ibe Kachikwu, has directed the full activation of an Intra-Ministerial Joint Monitoring Task Force to enforce compliance to laid down rules and regulations governing the supply and distribution of petroleum products.
Meanwhile, the National Chairman, PTD, Salimon Akanni Oladiti, while addressing journalists in Ibadan yesterday, said oil marketers were not hoarding fuel, but noted that the petrol being imported by the NNPC into the country was not sufficient, hence the queues.
He said, "We are not conniving with anybody to make Nigerians suffer for fuel, for sometime now, we have not been able to load at NNPC depot in Apata and Ibadan and there is no hope of loading in some other NNPC depot in the Southwest.
"Government is responsible for this problem, because if they bring enough petrol into the country, we as distributors, are ready to sell it out. It's so sad that we are one of the largest producers of oil but we are still suffering," he said
He pointed out that 75 per cent of the fuel consumed in the country now is imported by NNPC while the remaining 25 per cent is imported by major marketers, and disclosed that "corruption is still in the oil industry. There is corruption, bribery at all the oil depot before you can load your truck".
Oladiti noted that government needs to find lasting solution to incessant fuel scarcity in the country without further delay, stressing that the common man in the country was suffering.
He also urged the government to embark on aggressive rehabilitation of roads and railway networks, nothing that many accidents are caused by bad roads, especially for tankers.
On the challenges facing his members, the PTD chairman said, "If not because we believe in this government, we just want to wait and see what they can do. Tanker drivers across the country are suffering. Look at Ilorin-Oloru-Jebba Road, a distance of less than 60kms; it takes a tanker five to seven days to cross from Ilorin to Jebba, it is a pity."