Indonesia's mighty oil and gas industry slumps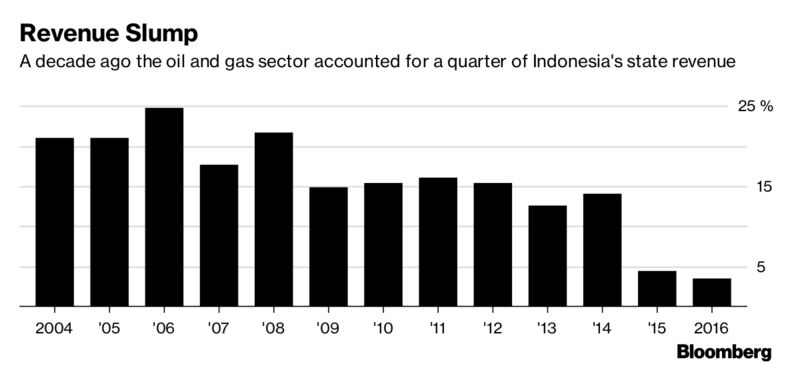 Hit by a drop in global prices, changing regulations and competition from neighbors that are proving more attractive to international energy companies, Southeast Asia's biggest economy is facing a decline in oil revenue and steadily rising fuel imports.
Once a cornerstone of the economy, Indonesia's oil and gas sector is in a slump, even as the country's appetite for energy soars.
With an economy growing at a 5% clip and the government embarking on a vast infrastructure roll out, the oil and gas industry is sounding alarm bells over the decline of a sector that five years ago accounted for almost 6% of Indonesia's gross domestic product and last year contributed only 3%.
"There seems to be a lack of long-term vision," said Tony Regan, an independent oil and gas consultant based in Singapore. "There seems to be an acceptance that oil production is declining rather than saying we can turn this around."
Investment for exploration in Indonesia shrank to $100 million in 2016 from $1.3 billion in 2012, according to government data. A lack of drilling success and commercialization issues have weakened Indonesia's outlook and spending is likely to drop further, said Johan Utama, a Southeast Asia oil analyst with Wood Mackenzie Ltd.
In the soft, pale leather armchairs of Jakarta's Cognac Lounge, seasoned oil executives discuss the decline of the industry and remember the way it used to be. The lounge, with its selection of fine wines and brandies, is the heart of Bimasena, the mining and energy club set up by former President Suharto 20 years ago.
OPEC days
In those days, Indonesia pumped about 1.5 MMbpd and the country, in 1997, was host to the meeting of oil ministers from the Organization of Petroleum Exporting Countries.
Now Indonesia has applied to rejoin OPEC after being out of the group for most of the past eight years. Oil traders and executives complain of a dearth of exploration and "stagnant" investment in the country. Part of that is caused by the drop in oil prices since the heady days from 2011 to mid 2014, when crude averaged more than $100/bbl. Now it's less than half that level, affecting investment decisions worldwide.
But Indonesia's oil explorers are feeling the pinch worse than most, said Regan.
"Indonesia has a reputation as being a difficult place to do exploration and development, not so much because of the potential, but more because of the sheer difficulty in getting approvals and permits and moving forward," he said.
After two years of declines due to oil's slump, exploration and production spending worldwide is forecast to increase by 3% this year, to around $450 billion, according to Wood Mackenzie's Utama. And some of Indonesia's neighbors are leading the rebound.
"We're expecting a healthy jump of investment in the near term in Brunei, India, Malaysia, and Vietnam. The total upstream spend for Malaysia in 2018 is expected to grow about 20 percent compared to 2017," Utama said.
Utama said up to four offshore rigs were probably active in Indonesia in the first half of 2017 compared with as many as 19 in 2013-14. "The overall picture is of declining production," he said.
The drop has also reduced the industry's contribution to Indonesia's state coffers. A decade ago, oil and gas accounted for a quarter of the government's revenue. Last year that had fallen to 3%.
Government plans
Indonesia's Energy and Mineral Resources Minister Ignasius Jonan said in an interview in April that the government was planning for expansion and aimed to lure as much as $200 billion in investment over the next decade, offering incentives such as tax-free import of drilling equipment and simpler cost recovery. It is also revising the tax structure.
He said state-owned oil giant PT Pertamina is spending billions of dollars to boost production and refining capacity and Indonesia's crude output is expected to top 1 MMbpd by 2019, from about 800,000 bbl now.
But oil executives say that some of the reforms have reduced the attraction of investing in exploration in the country. Earlier this year, the government announced it was ending a system under which it reimbursed contractors for all costs associated with exploration and production. Any new deals will see them bear all the costs of production.
Jonan said that some people "for years misused the cost-recovery system" and the new rules ensured a fairer return for Indonesia for its oil. "I try to be fair to the business and to the public that owns the resources," Jonan said in an interview this month.
Wood Mackenzie's Utama said the new rules were meant to speed up approvals and encourage operators to save on costs, but may make Indonesia less attractive to global oil companies than other destinations. The constantly changing regulatory environment "paints a picture of Indonesia as not being a stable place" for exploration, he said.
Investment in upstream oil and gas in the first half of this year was $4 billion, the government announced last week, compared with a full-year target of $22.2 billion.
Exxon leaves
The government's efforts to attract investment suffered another blow last month when Exxon Mobil Corp. withdrew from the East Natuna natural gas project, leaving state oil company PT Pertamina to develop alone one of the largest untapped fields in the world. Thailand's PTT Exploration & Production Plc also pulled out of the project. Oil Minister Jonan said East Natuna may require as much as $56 billion to develop.
The oil ministry said at the time that it had received a letter from Exxon stating that the field was "not economically viable." Exxon didn't respond to requests for comment on the project, which it had been involved in since 1980.
Even if the government achieves its target to increase production, it won't be enough to keep up with the nation's burgeoning energy demand. Indonesia already imports 500,000 bopd, according to Wood Mackenzie Ltd., which forecasts the country's total demand to grow to 1.9 MMbpd by 2022.
Southeast Asia's biggest economy is now a net importer of oil and will "potentially be a net importer of gas by 2020," said Sacha Winzenried, a partner at PricewaterhouseCoopers in Indonesia specializing in energy, utilities and mining. "It's a real turnaround from what it was 20 to 30 years ago."
A PwC survey of more than 50 companies involved in the Indonesian oil and gas industry identified a "stagnant" investment environment and concerns about government commitment to the sanctity of contracts.
"Pricing is important but it is not the pre-eminent concern for people investing in Indonesia," said Colin Singer, chairman of energy consultancy TIGA-I, who has 30 years of experience in the Indonesian oil industry. Rather, a "total lack of interest inside the government of carrying out any form of exploration" and poor infrastructure were the key factors holding the industry back.
"People who have been willing to carry out exploration have been ignored," he said.
Culled from WorldOil